After accessing ACU Unitpulse you will see your home page (activity feed), as in the example below:
Functions on the activity feed
Home – use when you want to return to your main activity feed.
Alert – this will let you know if there has been any recent activity on your activity feed, for example, questions that have started or ended.
Settings – access your profile and notification settings including the code needed for downloading the Bluepulse app.
Log-out of ACU Unitpulse.
The main activity feed displays the most recent posts in all your units that are active in ACU Unitpulse.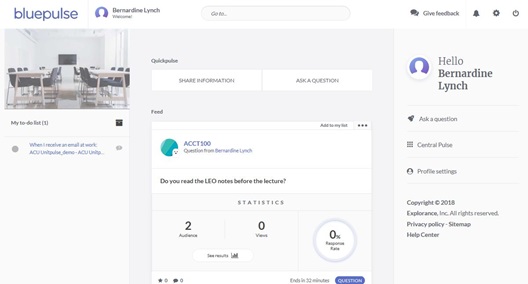 All posts will be displayed in chronological order from the top of the activity feed. Note that 'Course' refers to an ACU unit. Click on a unit to view the activity feed of a specific unit.