This section explains the most common causes of text matches and consequently a high similarity score, what information Turnitin looks for, and how you can avoid common mistakes in your assignment referencing and citations.
Turnitin recognises portions of text between double quotation marks (" ") as a quoted source. Failure to properly add quotation marks will most likely result in text match.
Full text matches
Full text matches are most often due to improper citations, usually due to one or both quotation marks being left out. If text has been copied directly from an internet source, or from another assignment, Turnitin will highlight this reference, and provide a link to the original source.

In the above image, the full paragraph is highlighted with no breaks. There are no quotation marks that would indicate that it is quoted from another source, nor is the source listed. Turnitin indicates that this sentence is an exact copy of text in a paper submitted previously to another university, indicating that it has probably been copied from another paper or resource found online. This would most likely be classified as an instance of plagiarism.
Partial text matches

In this common example, you can see how Turnitin has highlighted specific words in this paragraph, because the order and usage of words and partial sentences is similar to another paper in Turnitin's database. Turnitin not only matches exact portions of text, but can identify where a portion of text has been modified slightly from its original source to avoid detection.
Missing double quotes for direct source quotes
In order for Turnitin to recognise text quoted directly from a source, the quoted text should be surrounded by double quotation marks. In this example, single quotation marks have been used instead, and Turnitin has marked it as a text match because it doesn't recognise single quotation marks as a proper citation.

If you are using a referencing system such as APA, and are directly quoting a source, always use double quotes to surround the quoted text, followed by the source. Under the APA referencing system, double quotes are only not used when the sentence preceding the source referenced is paraphrasing the actual source text (as paraphrased text is not the same as a direct quote).
Misquoted text matches
In the following example, you can see how even though the quote was surrounded in double quotation marks, Turnitin has text matched it because the quote is not exact (the text 'by oppression' has been omitted). You should always be careful to quote your sources accurately.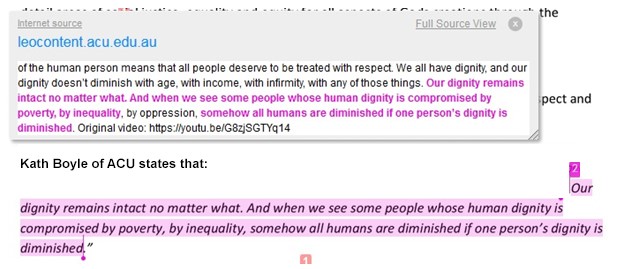 Text as an image
If you have improperly saved your document when converting it from one file format to another, you may have accidentally saved the content as a series of embedded image files instead of selectable or readable text. Turnitin cannot read and determine text from images. Usually in these cases, a high overall score occurs because the only text being matched is in header or footer information, which is usually common words such as "page" or "assignment".
Usually this happens accidentally when saving a document in a format such as PDF, depending on the program settings. If found to be unreadable, you will be asked to resubmit your assignment in a proper format.
Text as an image is easily recognisable, as it appears either slightly blurry, inconsistent in size, or faded from its original colour. It also means that tutors may have trouble adding comments to text when providing feedback.
References included in text matches
Sometimes, Turnitin will include your entire references section in the match results. Turnitin tries to ignore the references section, which is everything after the heading called "References" or "Bibliography".
However, if you add other text (such as text to state the referencing method) or misspell the heading text, or perhaps because of an unexpected technical glitch, Turnitin may try to match your references text. This can result in an overall percentage that is much higher than it should be.