How to add a calendar or events block to a unit

The calendar may be included in your site by adding a Calendar Block or an Upcoming Events Block.
Upcoming Events Block - lists calendar events that are coming in the next 20 days
Calendar Block - shows the current month's calendar
For more information, refer to How to add a Block to your LEO unit.
How to add an event to your calendar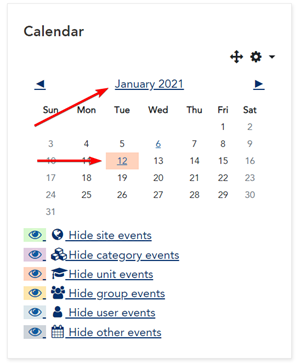 Open the calendar, either by:

In the Upcoming events block, selecting 'Go to calendar…':

In the Calendar block, selecting either the month's heading, e.g. 'January', or today's date, e.g. '16' (see image right).

Click the 'New Event button:

Complete the event details. The type of events you may use include:

User: a user event is an event only the user (you) can see
Group: a group event, allows you to set activities viewable only by certain groups you have created
Unit: A unit event is viewable by all unit participants
Category: A category event, is a way to have a event viewed 'globally' over multiple courses.

'Save your new event'.
How to edit your event
To edit your event, click on it in the calendar. A pop-up window will appear, then select 'Edit'.
Changing the date of an event using drag and drop
You can quickly change the date of the event, by dragging the event on the calendar to the date you wish it to be.