How to access and use predefined QuickMark's
To add an existing predefined QuickMark comment select the blue feedback summary area and click on the tick box icon 'QuickMarks'. Alternatively select a location in the student assignment and select the tick box option.
By default QuickMarks default to 'commonly used' to choose another QuickMark set click on the drop down menu..
Move your cursor over the comments included in the set, the content of each comment will appear at the bottom of the page.
Click and drag a predefined comment to a location on the student paper.
Click away to Save;
A bubble icon will appear in the student assessment document with the key words displayed as well as your initials.
Click on the comment to read. The content of the comment will appear as a pop-up, click away to close
To delete a QuickMark comment, click on the comment and select the trash icon.
To move a comment hover cursor over the comment and move to a new location.
How to add additional comments to a predefined QuickMark
QuickMark predefined comments cannot be edited, however additional comments can be added via the 'additional comments' option.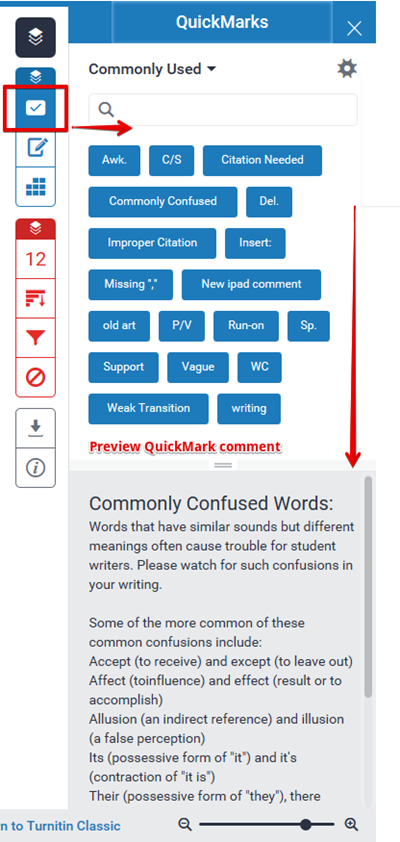 Associate a comment with a rubric
If a rubric is attached to your assignment you can also associate a comment with a rubric criterion by clicking on the 'Associate a criterion' dropdown menu.