The updated Dashboard is accessible by clicking the Dashboard link on the LEO home page or under the Profile Menu.
Using the display options above the list of courses you can:
Filter which units you can view on the dashboard by choosing "In progress", "Future", "Past", "Starred" and "Removed from view".
Sort the order of your units by "Course Name" or "Last Accessed".
Display your units by "Card", "List" or "Summary" depending on your preference.
For each unit is a menu you can use to further categorise a specific unit as "Starred" (a unit you wish to see) or "Removed from view" (a unit you don't wish to see). By clicking the Action menu (the "three dot" icon) for that unit, you can Star or Remove a unit from view: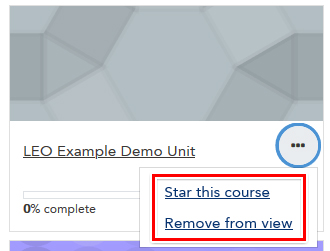 "Removed" units can still be accessible by filtering for "Removed from view".
Archived units can be accessed via the Archived units block. They are organised via by year. Select the expand option and click on the unit link to view.