Under normal circumstances, Banner units are automatically set to Archive after the exam period of that semester ends.
An archived unit can still be accessed by students but they cannot interact with it - they cannot post in forums, attempt quizzes, submit assignments or view their assignment submissions, etc. They can, however, read materials and download any files that have been made available in the unit.
My archived units appear as a list in the Navigation menu: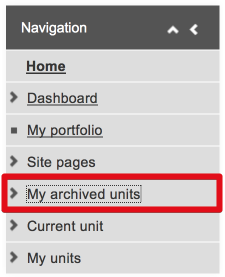 Manually archiving and un-archiving a unit
Banner units and non-Banner units can be manually changed to an Archive state:
Navigate to your unit, and under the Administration menu choose 'Edit Settings'.
Under the General settings, change the Archived setting to 'Yes'.
Click 'Save and Display' to save this setting.
An Editing Lecturer may choose to un-archive a unit to allow access to assignments and activities by changing the 'Archived' setting in its unit settings to "No". This is strongly discouraged in the case of Banner units, as it will cause old units to appear in the students' My Units list, which may be confusing for them. If un-archiving a unit for any purpose, remember to archive it again once you have retrieved any information you require.
< Reports
Assessments >