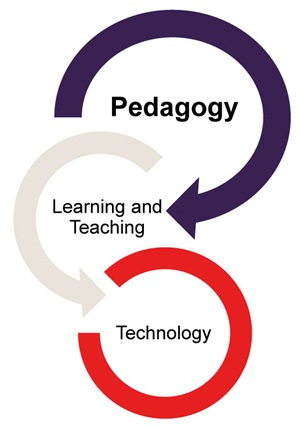 At ACU, technology enhanced learning is conceived of as a combination of a teacher's practices and understandings around learning and teaching, paired with the appropriate use of technological tools to achieve pedagogical aims and maximise student outcomes and experiences.
In its broader context, technology enhanced learning may be interpreted as learning that occurs through the application of electronic communication and computer-based education technology.
What knowledge do teachers need?
To appropriately apply technology enhanced learning, teachers need technological pedagogical knowledge (TPK), defined in the TPACK framework as:
An understanding of how teaching and learning can change when particular technologies are used in particular ways. This includes knowing the pedagogical affordances and constraints of a range of technological tools as they relate to disciplinarily and developmentally appropriate pedagogical designs and strategies. - (Koehler & Mishra, 2009)
This means understanding what existing or emerging technologies can be used to tell a story, encourage an activity, create collaboration or establish communication. What affordances do we need to create this experience? Learning experiences should not be lead or directed by a specific technology. This can be a constraint, limiting or restricting learning to one approach. Once you understand this concept, it will be easier to find a technology that enables and adapts to new concepts and meets your requirements.
---
At what levels can we apply technology?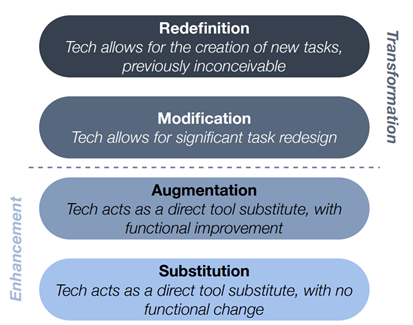 As teachers, designing activities to develop higher order thinking skills and finding ways to engage students and enrich their learning experiences can be challenging. Nevertheless, integrating technology can add a whole new level to learning and teaching.
But, where do we start? Puentedura's SAMR (Substitution, Augmentation, Modification, and Redefinition) model offers a pathway for integrating technology, from substitution to redefinition, to enhance the student learning experience.
Koehler, M. (2012, September 24). TPACK explained [Blog post]. TPACK.ORG. Retrieved from http://matt-koehler.com/tpack2/tpack-explained/
Puentedura, R. (2009, February 4). As we may teach: Educational technology, from theory into practice [Blog post]. Hippasus. Retrieved from http://www.hippasus.com/rrpweblog/archives/000025.html
---
References
Koehler, M. J., & Mishra, P. (2009). What is technological pedagogical content knowledge? Contemporary Issues in Technology and Teacher Education, 9(1). Retrieved from https://www.learntechlib.org/p/29544/article_29544.pdf