Activity: complete a KWL chart of your current knowledge and needs relating to presenting and publishing your SoTL work. A KWL chart refers to:
K: What do you already Know
W: What do you Want to know
L: What have you Learnt
Come back to the L once you have completed this section of the module.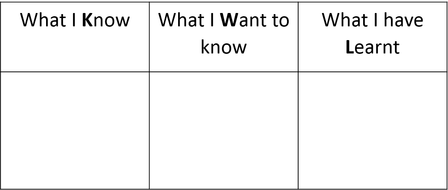 For many new to the academy or those new to SoTL, writing a teaching and learning publication can pose a challenge. New scholars need to make well informed decisions regarding what is motivating their writing, with whom they wish to share their writing, and how they will use their voice.
Your motivations for writing, (and being published) will impact on your decisions regarding what, where and how often you publish. Consider the following motivations for publishing (Shokraneh et al., 2010):
Documenting knowledge;
Sharing knowledge;
Problem solving;
Ownership of findings;
Personal promotion;
Intrinsic satisfaction;
Acquiring grants and awards;
Surviving in the academy.
Activity: As a reflection exercise, identify the factors that Shokraneh has proposed which resonate with you. You might like to add to the list of motivation factors and share these with a colleague.
Watch the video: Barbara Grant – Where to Publish for New Scholars in SoTL
Barbara speaks about some possible journals in which you might publish your initial SoTL work. There are an array of Higher Education journals to which you could submit your SoTL manuscript. Below are names (and links) to some journals that you might consider:
Watch the video: Barbara Grant – Alternatives to Scholarly Writing
Consider Barbara's suggestions about alternatives to scholarly writing
---
Activity:
Prepare a list of potential alternatives to scholarly writing, as suggested by Barbara.
What do you see as the benefits to using these alternative spaces and writing forums for new scholars?
How might these alternative spaces act as rehearsal spaces for finding your SoTL voice?
---
Read:
this article published by The Conversation:
"Teaching Only Roles Could Mark the End of Your Career"
As a new scholar, consider how engaging in SoTL could assist in securing your employment in higher education, and contribute toward your university's pursuit of quality teaching and learning. Also, consider the space that The Conversation provides for sharing your academic voice. Could this be a place for you to publish your work? The Conversation calls for a different type of publication – one which is highly engaging, addresses a social, cultural, health, economic or educational concern, and speaks to a broad audience.
---
Activity:
After viewing both of Barbara's Youtube clips and logging on to The Conversation, prepare a list of possible outlets for your SoTL writing. Here it is important to be mindful of the intentions of, and your motivations for your writing.
---
Activity:
Prepare a Blog post to share with colleagues who are new to SoTL. The aim of the Blog post is to consolidate your learning and assist others to reflect on
where
and
how
to make "writing public".