Overview
When connecting to connected systems from LEO, users may be unexpectedly logged out of LEO and returned to the SSO login page: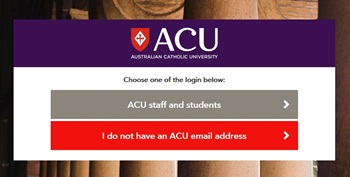 When adding Kaltura, H5P or Equella content in LEO, the interface for these systems should load in an overlay window, allowing users to create and select content from these systems to interact with and add to LEO units. Security settings in web browsers may prevent systems connected to LEO and may need to be customised to allow access. Users may not be able to load content from these system or add them into their units, and may be logged out of LEO upon attempting to.
Alternatives and Workarounds
The best solution for this issue is to try using a different browser, such as Firefox or Brave.
If you are redirected to the LEO Single Sign On (SSO) page in the middle of creating, viewing, or accessing resources or learning activities in your LEO unit, you may need to enable "cookies" in your Safari or Chrome web browser.
LEO systems that may be affected include:
Kaltura
Equella
Echo360
H5P
Enable cookies for LEO in Safari
Web browser cookies in Safari are either enabled or completely blocked for all sites. For instructions to enable cookies in Safari, visit the Safari User Guide from Apple Support.
Enable cookies for LEO in Chrome
Chrome allows you to select which web sites can have cookies enabled. If you want to block cookies by default on your web browser, you'll need to create "exceptions" for LEO sites. Chrome allows exceptions for entire domains with the prefix: [*.] We recommend that you allow exceptions for the following domains in LEO:
[*.]acu.edu.au
[*.]kaltura.com
[*.]echo360.org.au
[*.]echo360.com
[*.]h5p.com
For instructions to enable cookies in Chrome, visit this Google Chrome Help page and navigate to the section Change your cookie settings > Allow or block cookies for a specific site.
Status of fix for this issue
Currently unresolved.