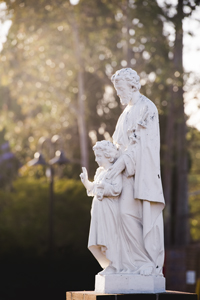 Our vision for stewardship at ACU will be realised through the following five pillars.
Our university: We are stewards of a thriving Catholic institution with the relationships, capability, resources, programs and reputation required to advance our mission and identity, now and in the future.
Our students are at the heart of our mission. We are stewards of their intellectual, ethical, personal and professional growth during their time at ACU and beyond as alumni. We build the capacity of students to make positive and lasting differences to communities and societies.
Our people: ACU staff are valued, trusted, empowered and accountable. We are stewards of their professional energies, growth and potential. The work environment supports and encourages staff in caring for themselves and others.
Our common home: we acknowledge the First Peoples, the traditional custodians of the lands and waterways where ACU campuses are located, and as caretakers of our earth we all have a responsibility to serve the common good. We manage a network of vibrant campuses and workplaces, minimise our environmental footprint and maximise our impact in our communities.
Our leadership and knowledge: we are stewards of Catholic scholarship, our disciplines and cross-discipline innovation. We nurture a vibrant academic and professional culture of creativity, discovery and innovation. We translate research into impacts that benefit society.