Peermark is an additional activity added to an existing Turnitin assignment. For more information about how to create an assignment see How to create a Turnitin assignment,
Create Peermark review
Navigate to a unit from within LEO.
Locate and click on the Turnitin assignment.
In the submission inbox page, click on the Launch Peermark Manager' (green cog icon)
A pop up window will open. Click on the 'green' plus icon 'create Peermark assignment'.

Create Peermark questions
In the Peermark Assignment tab, enter the following and click 'Save & Continue'

Enter a title
Enter instructions
Assign a Point Value for the peer review (if relevant to the assessment).
Specify a Start date, Due date and Feedback release date
Click on 'Additional Settings' to edit or confirm other settings such as number of papers to review, whether you want the student to self-review.

To add questions to your peer review, click on the Peermark Questions tab.(libraries are linked directly to Turnitin site, you can add your questions here if you wish to save and reuse them in another peer review activity).
'Add a question'

There are two types: 'free response' and scale'
In the Free response enter the title and minimum number of words required if appropriate.
In the scale question, select the range e.g. 1 (low) 5 (High)
Click save

To manage distribution of peer review, click on the Distribution tab.

You can leave Turnitin to force the random choice of reviews per student
Alternatively your can either use the 'Pair' or 'Exclude' icons
Pair students to review each others work
Exclude to exclude students from participating in peer review.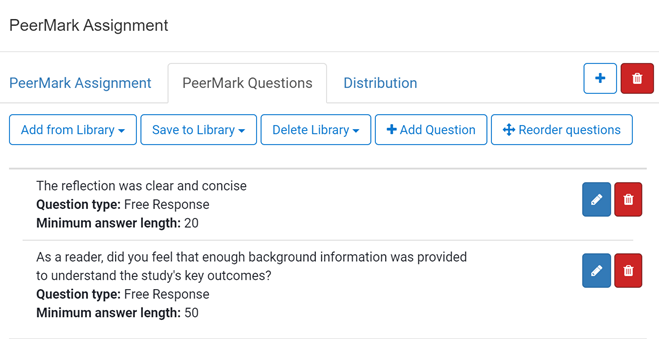 The peer review process should commence after the due date of the Turnitin assignment to ensure students are providing feedback to their classmates final version.