Hear about Professor Tim McKenry's experience.
ACU Case study: Teaching music across multiple campuses using blended learning (MUSC335)
Many thanks to the Faculty of Law and Business for the use of their Pop-up Studio equipment to record this interview.
Length: 8 mins.
Unit design
Folio
This unit is a capstone unit for the music major, it is built around the production of a professional composition folio.
Formative feedback
Throughout the unit students build their knowledge and skills in the use of various tools and techniques to compose music. Students submit drafts to LEO and receive regular formative feedback either face-to-face or via annotated scores.
Structure
| | | |
| --- | --- | --- |
| Format | Time | Type |
| Asynchronous online video and audio | ~1 hour per week | The video lectures were designed to be short (10-15 mins) and having no more than four per week. Where they are additional they were put under a 'bonus' lecture section. |
| Synchronous face to face workshop | 2 hours weekly | These workshops are run separately at each campus. They involve analysis, listening, composition, performance and discussion. |
Assessment
Assessment task

Length

Weighting (%)

Description

4 short formative exercises in analysis and composition

1-3 page worksheet

40% (10% each)

The creation of small compositions or studio exercises.

Each formative assignment translates to approximately 3 to 4 hours' work.

All assignments are submitted on LEO as a PDF file.

3 developed compositions

(approximately 2 minutes each)

60% (20% each)

A professional standard of music presentation is expected. Ideally these compositions are typeset using Sibelius, Finale or equivalent music notation program.Assignment to be submitted as a notated score or sound file as appropriate.
The above assessments may have been designed before the latest update to the ACU Assessment Policy. See Assessment Policy for up-to-date advice on designing your assessments.
Visual from the unit
Here is an example page from the unit, showing module outcomes, and an embedded 'mini lecture'.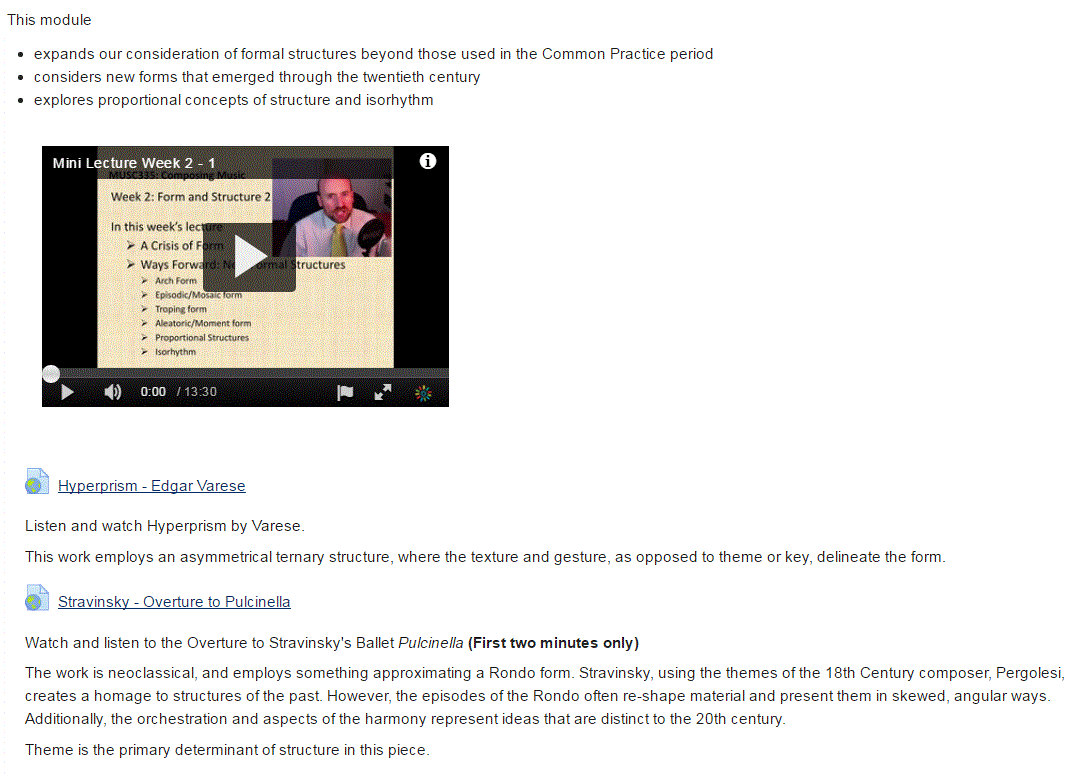 Technology
This is a list of some of the major tools used in this unit.
Tool

Rationale

Resources

Kaltura for uploading video and audio

ScreenFlow for MAC

Tim used a screen capture program to produce videos that he then uploaded to ACU's Kaltura streaming server. This allowed him to give the students an experience of him discussing, demonstrating, composing music, before attending face-to-face sessions.

Prerecording these lectures allowed Tim to capture what he was doing on his computer, without having to install the additional music software on multiple platforms.

See the eLearning 101 webinar, Embedding Kaltura and YouTube videos in your units

Although Tim uses ScreenFlow for MAC there are tools available for use internally that will allow you to do screen captures. Including Adobe Presenter and Kaltura.

Music composition and editing software
Students needed to develop competence in the use and application of music software.
ProTools
Logic Pro X
Sibelius
Finale
Garage Band
Audacity
Music studio app
Previous to creating this unit, Dr Tim McKenry won a Learning and Teaching Grant to lead a team to create a multi-platform app designed to develop competencies around the use of industry-standard music and audio technology for undergraduate students. It sits apart from a unit of study, can be downloaded onto a mobile and is embedded in all relevant units.
Here is a web-based version, see ACU Music Studio
Support
These are examples of the kinds of support the academic staff building this unit drew on.
Tim sought support from a media-saavy faculty colleague for advice on using Kaltura. This colleague showed him how to effectively use the tool and troubleshoot any problems.
Next time
Tim would like to focus on the following for future iterations of the unit:
Continuing applying the School of Arts 'Mixed mode strategy', that may involve combining smaller student cohorts to create national programs.
Further reading
Portfolios
For more information about using portfolios in your teaching, explore:
References
JISC 2008, Effective practice with e-Portfolios, viewed 5 August 2016