School:
Unit:
Mode:
Context:
Academic:
Student profile:
Students enrolled:
Theology
THCP514 Foundations in Liturgy
Online
Master of Theology, 1st year
Professor Clare Johnson
Mature age, coming from a variety of backgrounds, local and international students.
30 (approx)
*Although this case study is for an online unit (rather than blended unit), we have included it because the topics covered are applicable to blended units.
Highlights
'Meet and play' webinar sessions to familiarise students to the tools of the course
Synchronous online classroom/activities
Collaborative discussion using online tools
In this clip, Professor Clare Johnson discusses the development and challenges of moving to online.
ACU Case study: Creating a sense of connection in liturgical studies (THCP514)
Many thanks to the Faculty of Law and Business for the use of their Pop-up Studio equipment to record this interview.
Length: 8 mins
Unit design
While much of the content is delivered in a written format in modules and readings, these are supplemented with information provided in live interactive online classes.
The students are expected to attend and participate in these class sessions so that they:
can interact with the lecturer and fellow classmates
contribute to discussions and in-class exercises
ask questions about the material covered in the unit and other issues that arise.
Another important feature of this unit is regular participation in online discussions (which in LEO are known as 'Forums'). Invitations to contribute to the discussion Forums are embedded in the unit modules.
These activities help to guide and focus student's reading, and foster discussion among the group. While most of the Forum postings are not assessed formally in this unit (only the online postings are assessed – see scrolling carousel), it is expected that students participate in the Forums, much as they would contribute to a class discussion in a face-to-face tutorial group.
Structure
| | | |
| --- | --- | --- |
| Format | Time | Type |
| Synchronous online class | 1.5 hours per module | The unit is 12 weeks long, covering seven (7) modules. |
| Asynchronous online activities | 6 hours per week | Discussion forum activities, readings, videos. |
Assessment
Assessment task

Length

Weighting (%)

Description

Assessment 1: Online posting and responses

(individual)

3 x 300 words

2 x 200 words

30%

Online postings provide an opportunity for students to demonstrate and articulate their understanding of key aspects of the materials and concepts under consideration in this unit in a focused manner. Online responses provide an opportunity for students to consider, peer-review and offer constructive feedback to each other on postings in light of knowledge gained through study and analysis of unit materials.

Assessment 2: Liturgy Exercises

(individual)

3 x 500 words

30%

The three liturgy exercises each provide an opportunity for students to apply the knowledge and skills they have gained through their study of unit materials to practical liturgical examples.

Assessment 3: Research essay

(individual)

2000 words

40%

The major essay provides an opportunity for students to focus on a central aspect of the unit in extended written form which enables a synthesis of knowledge gained throughout the unit and engagement with relevant research completed in relation to key materials covered in the unit.
The above assessments may have been designed before the latest update to the ACU Assessment Policy. See Assessment Policy for up-to-date advice on designing your assessments.
Here is an example of how the unit outline captures online posting and Adobe Connect sessions.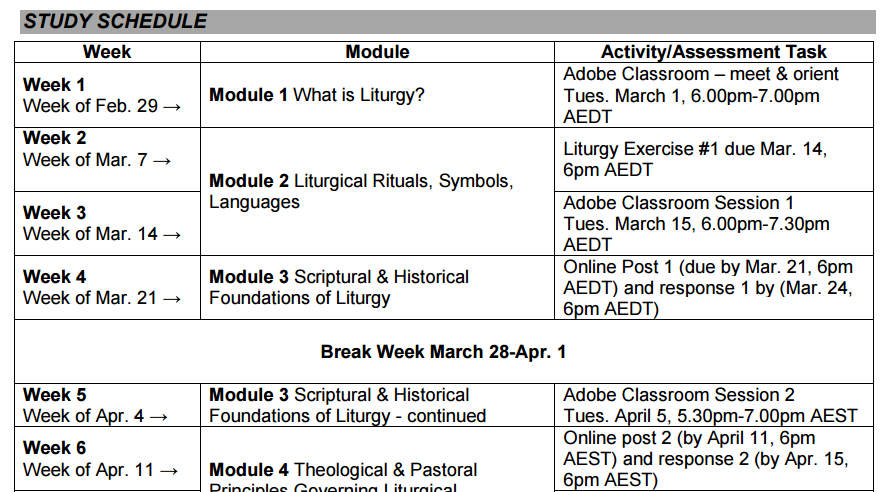 Educational approaches
The following are two example strategies used in this unit:
Week 1 familiarisation session
In the first week of the unit, Clare runs a 'meet and play' session to give students an orientation to the unit. It's a chance for students to familiarise themselves with the tools available and test them out in a risk free environment within Adobe Connect. It is also an opportunity for the students to introduce themselves and get to know their lecturer.
Constructive alignment
The principle of constructive alignment was applied to make sure every activity aligns with a learning outcomes, and has a purposeful reason for being.
Backwards design
This unit was designed using the 'Backwards design' approach.
This approach is from Wiggins and McTighe (1998) Understanding by Design.
The design process involves teachers planning in three (3) stages, each with a focusing question: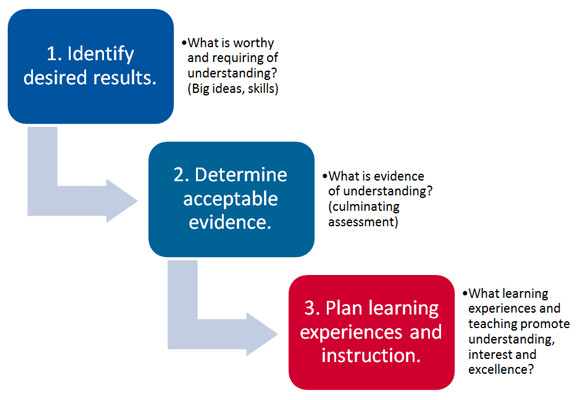 Adapted from Understanding by Design, G. Wiggins and J. McTighe, 2005, Alexandria. p. 18.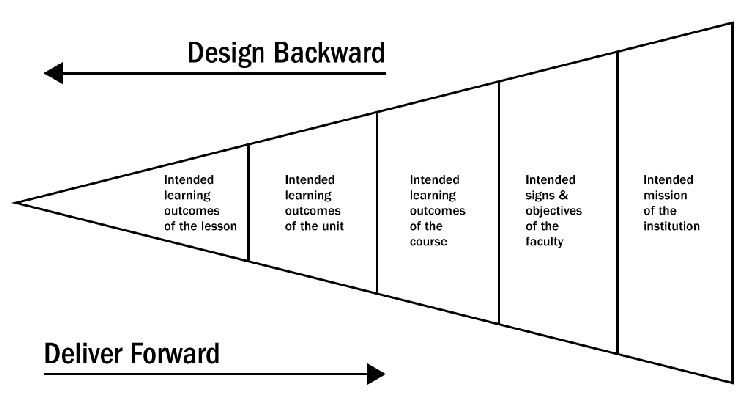 Image Source: Plan for designing and delivering learning outcomes (Huba and Freed, fig. 4-7, p.108).
Technology
This is a list of some of the major tools used in this unit.
| | | |
| --- | --- | --- |
| Tool | Rationale | Resources |
| Adobe Connect | Synchronous web conferences including the use of break out rooms, virtual whiteboard and chat tool. | See also Lynda's "Adobe Connect Essential Training" |
| Video | Videos were deliberately integrated to, linking to a specific learning outcome. | See the eLearning 101 webinar, Embedding Kaltura and YouTube videos in your units |
| Good headphones | Clare also recommends getting students to buy a good headset. This enables students to speak and listen to the class without unpleasant background noise interfering with everyone's learning. | The ACU recommended headset is the Logitech USB H390 which generally works with both PCs and MACs. However, some MAC users have experienced problems with the USB H390 and so there is a MAC compatible Logitech headset H530. |
Support
These are examples of the kinds of support the academic staff building this unit drew on.
FTP Faculty eLearning coordinator assisted in the planning of the delivery of the online unit and gave academics support in building their skills in the best practice use of online tools and communication.
Lessons learned
Planning out the whole unit/semester is important so that you know how the content, readings, activities/exercises and assessment tasks relate to each other.
Including frequent low-stakes assessment tasks (or sections that build toward a larger task) and preparatory exercises to help them prepare to complete the assessment tasks, can help students to gain a sense of confidence in their learning of the unit materials under consideration.
Set high expectations of students.
Student feedback
"Loved the way the online group worked I really felt like I got to know people so it means I think that the pacing of Adobe classrooms was just right".
"Being able to access the course materials online and the thought provoking readings and tasks."
"Feedback on assessments was very timely and insightful the design of the unit and the handling of the online environment was the best of all my units so far".
Next time
Clare would like to focus on the following for future iterations of the unit:
Including more Adobe Connect sessions during the semester as a response to the requests of students more.
Further reading
Constructive alignment
The following may be useful if you would like to understand constructive alignment more.
Watch the video, Constructive alignment and learning outcomes (Dawson, 2012).
Read the seminal work by Biggs and Tang (2011) Teaching For Quality Learning At University, there are eBook copies at ACU library. While the whole book is relevant the following two chapters are particularly useful as a beginning:

Chapter 6: Constructively aligned teaching and assessment
Chapter 7: Designing intended learning outcomes
Backwards design
If you are interested in learning more about backwards design, explore the following:
Understanding by design (Wiggins and McTighe, 1998), particularly Chapter 1: Backwards design. Available at the ACU library.
Teaching online
In Clare's interview she speaks a lot about the transition she needed to make to build her skills in teaching online.
References
Biggs, John B.; Tang, Catherine 2011, Teaching For Quality Learning At University, e-book, accessed 28 June 2016, <http://ACU.eblib.com/patron/FullRecord.aspx?p=798265>.
Dawson, P 2012, Constructive alignment and learning outcomes [video], 10 October, viewed 19 July 2016 <https://www.youtube.com/watch?v=Xs4WLm0uC2k>.
Huba, M and Freed, J 2002, Chapter 4: Setting direction with intended learning outcomes, Learner-centred assessment on college campuses: Shifting the focus from teaching to learning, Allyn and Bacon, Needham Heights, MA.
Salmon, Gilly 2012, E-Moderating : The Key to Online Teaching and Learning, e-book, accessed 19 July 2016.
Tasmanian Department of Education 2004, Principles of Backward Design, accessed 20 July 2016 <http://www.wku.edu/library/dlps/infolit/documents/designing_lesson_plans_using_backward_design.pdf>.
Wiggins, G, & McTighe, J 2005, Understanding by Design (Expanded), Association for Supervision & Curriculum Development (ASCD), Alexandria, US, viewed 19 July 2016.