Highlights:
Using LEO lesson to support understanding and application
Strategies for creating sustainable content
Mixing traditional and blended formats to cater for the needs of large enrolments
Hear about Flora and Adam's experience.
ACU Case study: Planning for sustainability in blended units
Many thanks to the Faculty of Law and Business for the use of their Pop-up Studio equipment to record this interview.
Length: 10 mins.
Unit design
It is important to communicate the design of a unit to students - why a unit is structured as it is and making students aware of your expectations. Adam and Flora communicated to students the blended structure of the course through the unit outline, orientation modules and face-to-face "resource" sessions.
Structure
Format

Time

Type

Asychronous/synchronous lectures/online lessons/resource sessions

2 hours

These sessions were either:

- a face-to-face resource session,

- an online lesson or

- a combination of both online and face-to-face components (outlined in the student's timetable).

In general lectures were moved online for this subject.

Synchronous tutorial

1 hour

A face-to-face tutorial. Tutorial activities were also actively linked to the 'flipped' components of the online material. There are five flipped learning activities- in Weeks 2, 3, 6, 8 & 10. The flipped learning activities are clearly linked to activities in the nominated tutorial or practical classes and must be completed by the student prior to attending class.

Synchronous laboratory class
2 hour
A face-to-face laboratory class
Assessment
Assessment task

Weighting (%)

Description

Assessment 1: Professional roles and communication

20%

A written assignment to provide students with the opportunity to; explore the concept of inter-professional practice consider the roles and responsibilities of different team members, and discuss the importance of quality communication in achieving effective working relationships.

This assessment will also provide students with early feedback on academic writing skills

Assessment 2: Professional portfolio part A
30%
Practicing safely in the clinical environment requires a commitment to the continuous process of learning new skills. It is a requirement of clinically-focussed professions to engage in CPD and also to maintain an accurate and detailed record of this process. This assessment task requires students to construct a written statement that outlines their impending professional obligations to CPD, and explains how this can be achieved using a portfolio. Mahara Portfolio is used.
Assessment 2: Professional portfolio part B
Hurdle
Students need to show completion of a range of modules and tests:

a) Simulation Centre Mandatory Orientation
b) On Line Medication Calculation Test
c) Assessment of Vital Signs Skill Development Checklist sheet
d) Working with Vulnerable Children, Young People and Vulnerable Adults online module
Assessment 3: Exam
50%
2 hour exam, 90 multiple choice questions.
The above assessments may have been designed before the latest update to the ACU Assessment Policy. See Assessment Policy for up-to-date advice on designing your assessments.
This sample of the student's schedule shows clearly what is expected each week both online and face-to-face: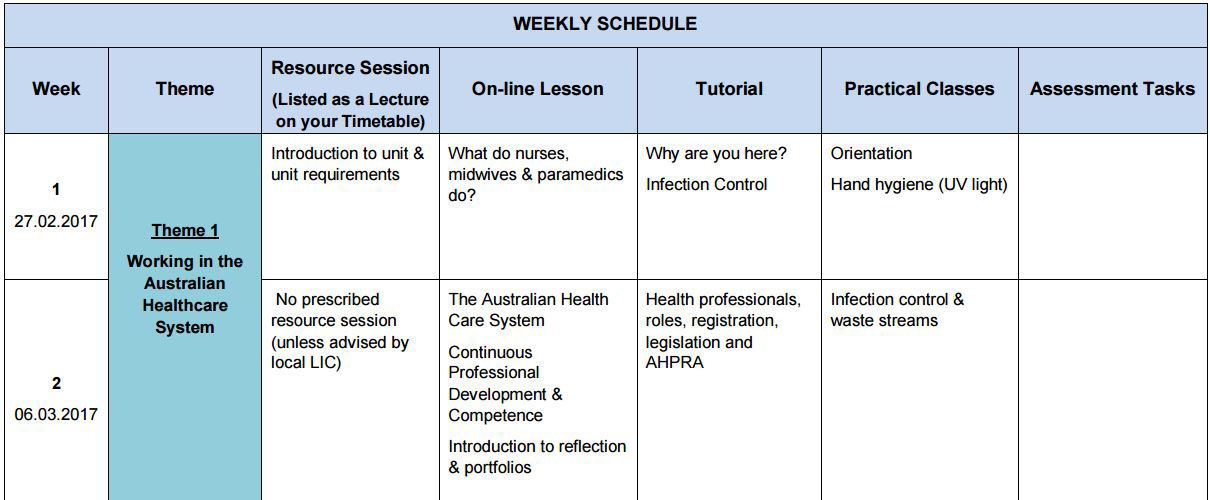 Technology
This is a list of some of the major tools used in this unit.
Tool

Rationale

Resources

Adobe Captivate

Adobe Captivate was used to create lecture videos that were 'chunked' to a maximum length of 10 minutes. YouTube was used for hosting the videos (the in-house tool 'Kaltura' will perform the same job).

See LEO guide: Kaltura.

See the video-related information in Using Technology for Content Delivery.

LEO Lesson
The majority of the lectures were embedded within the LEO Lesson tool. The LEO lessons also contained other activities, such as pre-reading, quizzes, weblinks, individual reflection activities to encourage students to apply what they are learning.
See LEO guide: Lesson.
Mahara Portfolio
Students used Mahara Portfolio for Assessment 2. A step-by-step guide and instructional videos on how to use the Mahara Portfolio were provided in the LEO Assessment block within the unit.
See LEO guide: portfolio
Each video is paired with a related activity, this can help turn watching a video from a passive activity to an active learning activity that promotes higher level thinking and engagement. Here is an example of reflection questions following a video:
---

---
Support
These are examples of the kinds of support Flora and Adam drew on in building this unit.
Colleagues with experience in using LEO lesson
Faculty eLearning specialist
Next time
In a recent iteration adjustments were made to the content in weekly online lessons to better reflect a more reasonable workload expectation and to balance workload across the entire semester.