School:
Unit:
Mode:
Context:
Academic:
Student profile:
Students enrolled:
Peter Faber Business School
MGMT310 Managing organisational change and development
Online*
Mainly business degrees and nursing degrees
Dr Sandra Beach
Predominantly working students
190
*Although this case study is for an online unit (rather than blended unit), we have included it because the topics covered are applicable to blended units.
Highlights:
Using learning analytics from LEO logs to support students
Focus on teacher 'presence' within the unit
Addressing challenges with video assignments
Hear about Dr Sandra Beach's experience.
ACU Case study: Using LEO logs learning analytics to support students (MGMT310)
Many thanks to M.Sobek from the Learning and Teaching Centre for equipment and filming.
Length: 6 mins.
Unit design
The unit follows FLB's Digital Core structure, each week commonly has the following features:
Overview (brief outline describing the week's learning intention and a succinct summary)
Why are we doing this? (rationale/links to learning outcomes)
Essential question (key idea)
Concept videos (approximately 6 x 10 mins)
Prescribed readings
Extra resources (videos, podcasts, weblinks, additional readings)
Activities In each section there are one or more activities to encourage students to engage with the resources in an active and meaningful way.
Knowledge check (individual revision activities to allow learners to assess their own learning levels.)
Structure
Format

Frequency/Time

Type

Asynchronous video

6 x 10 mins

Pre-recorded introductions to weekly topic.

Synchronous sessions

approx. 2 per assessment

Several live sessions using Adobe Connect situated before each assessment.

Asynchronous activities
Weekly
LEO Books containing videos, readings, slides, questions and infographics.
Self-assessment activities - questions to help students gauge their progress.
LEO polls, quizzes, wiki pages
Assessment
Assessment task

Weighting (%)

Description

Assessment 1: Essay

30%

Students analyse and critique two change models.

Assessment 2: Organisational change
diagnosis and video
presentation
30%
Three components: case analysis, 5-7 min video presentation of the case analysis and two page summary of your presentation.
Assessment 3: Organisational change plan
40%
Developing a change plan which addresses an organisational problem.
The above assessments may have been designed before the latest update to the ACU Assessment Policy. See Assessment Policy for up-to-date advice on designing your assessments.
Technology
---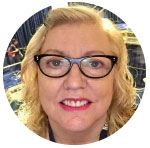 Students don't expect to have Hollywood-style movies. They're just glad you made the effort, and that you're talking to them.
---
This is a list of some of the major tools used in this unit.
Tool

Rationale

Resources

Adobe Connect
Sandra used Adobe Connect for live sessions around each assessment.
See LEO guide for Adobe Connect.
and Lynda guide Adobe Connect Essentials.
LEO and Turnitin logs
Sandra used the logs in LEO and Turnitin to monitor student's engagement and support students.

LEO logs can be found Administration > Unit administration > reports > logs

See Moodle logs.

Watch this introduction by Moodle to logging.

UNSW provide some useful instructions to Generate Reports in Moodle

Glossary

Every time a student logged in there was a picture and bio of a fellow classmate (different each time) - a 'people gallery'. This helped create a sense of community and break down the sense of online isolation.

This was achieved through using the LEO glossary and block features. Students are instructed to upload a photo and a bio into a glossary on LEO.

Once the glossary was created, a LEO block ('random glossary entry' type) is made and set it to draw from the bio glossary and moved to the top right-hand side of the LEO unit.

See also Dr Sebastian Krook's case study, as he similarly implements a people gallery.

See LEO blocks (see under Resources)
Support
These are examples of the kinds of support Sandra drew on in building this unit.
Faculty Educational Designer - support and suggestions over the development of the unit.
Faculty eLearning Technical Support Officer
Mentor - encouragement.
Lessons learned
Give students instructions and support with technology use. Don't assume your students will know how to use a technology (such as creating and uploading videos).
Developing online units takes time, so break development into small changes each time.
Just keep going, don't give up.
Don't worry about your thoughts that 'my videos aren't good enough'.
Next time
Some students have expressed that they don't like learning online and would like to interact face-to-face. Sandra is exploring this challenge, of how to meet the need of an 'experiential' element to the unit, finding there is no easy answer. She plans to research what others are doing to meet this need, and make incremental change.